London Eye Proposals
"Like a famous scene in the Hollywood movie" – The Daily Mail  
Did you know we are the recommended Proposal Planners for The London Eye? Having arranged numerous proposals on this famous London landmark, we can help you make your London eye proposal as unique and romantic as possible. Form decorating a private capsule, to filling a pod with a flashmob, we will turn your London eye experience into something that neither you or your partner will forget!
London Eye Proposal ideas
Imagine stepping onto the London Eye and then surprising your partner with a unique proposal? Here are some of our London Eye proposal ideas (and we have hundreds more, all of which we will personalise to you as a couple)
A surprise singing flashmob on a private capsule
A London Eye blindfold experience where we decorate the capsule with romantic decor and props
A singing serenade with champagne and butler on board the London Eye
A 6ft sign saying 'will you marry me' as you look out over London from your price capsule
A luxury experience in the London Eye Private Champagne bar
A private speedboat experience with photographer with a stop outside the London Eye for you to propose
If you would like us to help plan an amazing proposal for you on the London Eye, then please drop us an email on info@theoneromance.com
Our London Eye Proposals
Below are some of the fabulous London Eye proposals we have planned in the past. Just click on the photo below to watch the videos.
If you are thinking of proposing on the London Eye then please get in touch by dropping us an email on info@theoneromance.com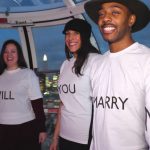 London Eye Flashmob Proposal
London Eye Romantic Decor proposal
London Eye Blindfold proposal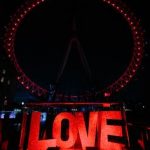 London Eye romantic serenade proposal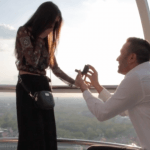 London Eye Tear jerker proposal