Adam and Julie's spectacular Fitzrovia Chapel Proposal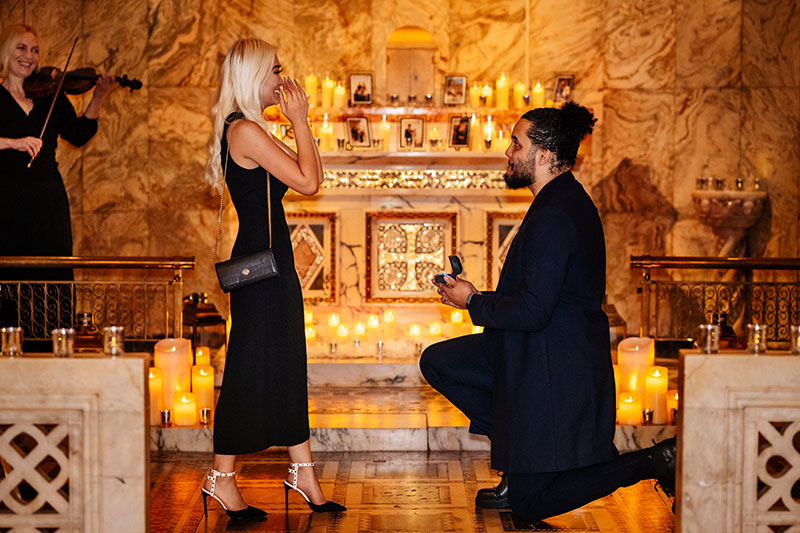 After nearly four years together, Adam and Julie knew they wanted to spend the rest of their lives together.  While Julie confessed that she may have dropped a few hints that the answer would be a yes, little did she know that Adam was working with the One Romance to create a proposal beyond her wildest dreams.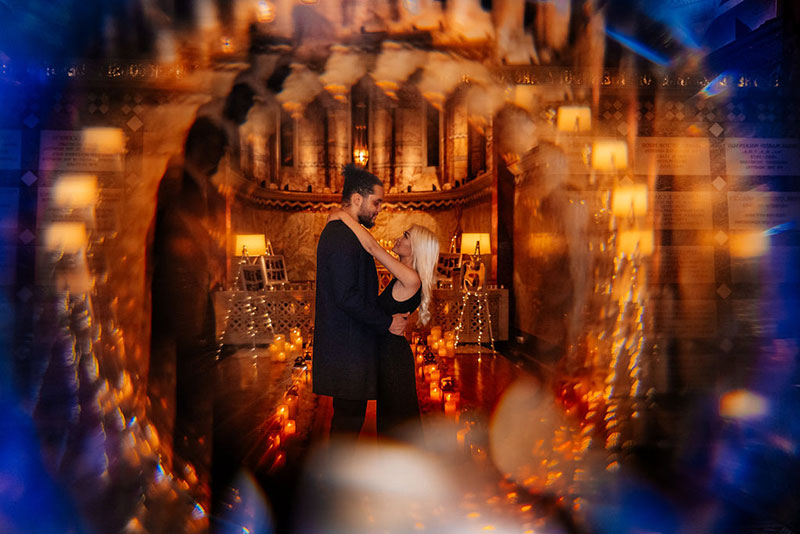 The team arrived early at the spectacular Fitzrovia Chapel and got to work.  The chapel is truly a hidden gem, nestled just off the bustling streets of London, perfect for a romantic city proposal.  With dramatic stained-glass windows, vaulted ceilings and the warm golden glow under candlelight, the Fitzrovia Chapel is undeniably breathtaking.  When adorned with hundreds of twinkling candles, lanterns, white rose petals and personal photos of a life together, it's hard to imagine a more romantic setting in which to propose.  And as if this romantic gesture was not enough, Adam had another surprise in store for an unsuspecting Julie.  The One Romance is well known for its personal touches when creating bespoke proposals to create a magical and unique experience for each couple.  And Adam and Julie's proposal would be no exception.  Before Julie fell in love with Adam, she fell in love with the violin, dreaming of becoming a violinist herself one day.  The One Romance had the perfect solution, with long-time collaborator, concert violinist Stella Page.  With the scene set, and our professional wedding photographer Gemma, discreetly hidden away, all that was left was to wait for the happy couple to arrive.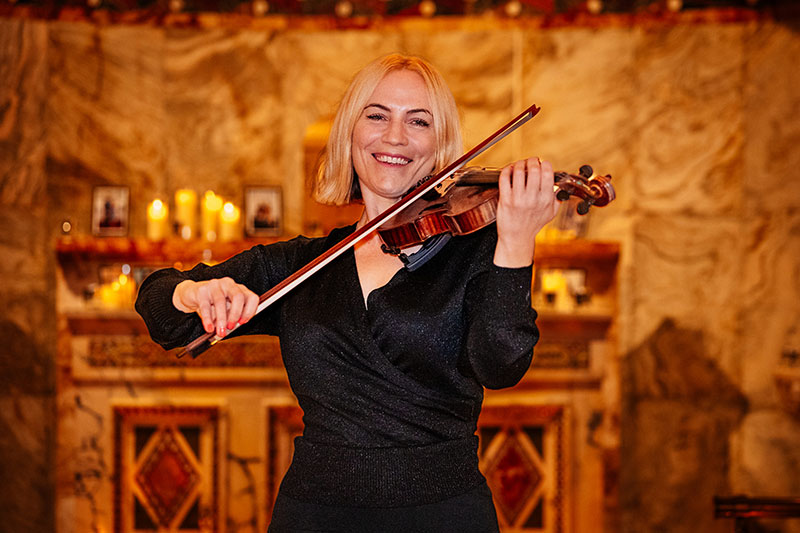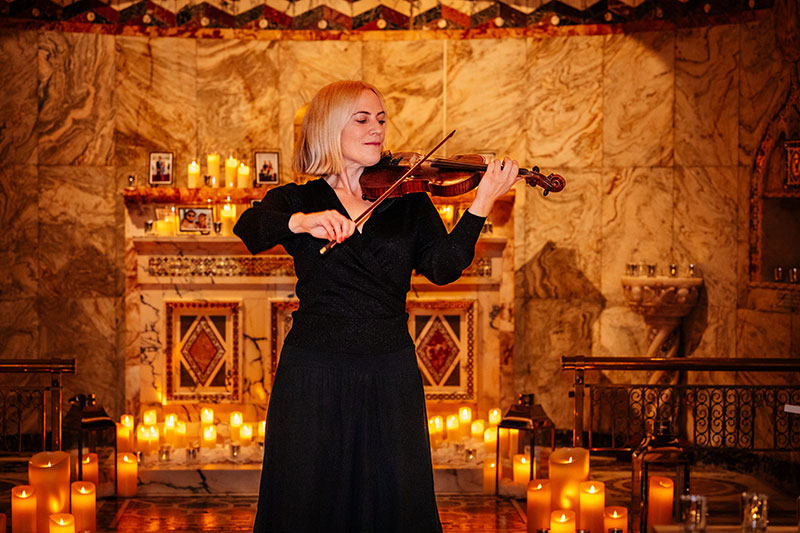 Now, if you've seen any of our other elaborate London proposals, perhaps you've wondered how much of a surprise such a dramatic proposal is and if it really is possible to keep it all under wraps with all the planning that goes into it.  The One Romance are not only experts at helping you find your unique proposal style, but also have lots of clever hints and tips on how to keep it quiet.  Including preparing your very own backstory to keep your plans a surprise until the last minute.  Adam told Julie they would be attending a work-related charity dinner to maintain the surprise.  As no strangers to charity and black-tie events, an unsuspecting Julie had no idea what lay in wait for her on the other side of the Fitzrovia Chapel door.  As they emerged into the golden glow of the chapel, Julie's first thought was the evening was a more elegant affair than she was expecting, as she began looking around for where the other guests might be hiding.  Stella serenaded Adam and Julie with classical Irish music, a reminder of the couple's previous visit to Ireland.  As they walked up the rose petal aisle, Julie caught sight of the photos from their lives together and finally realised this was all just for her.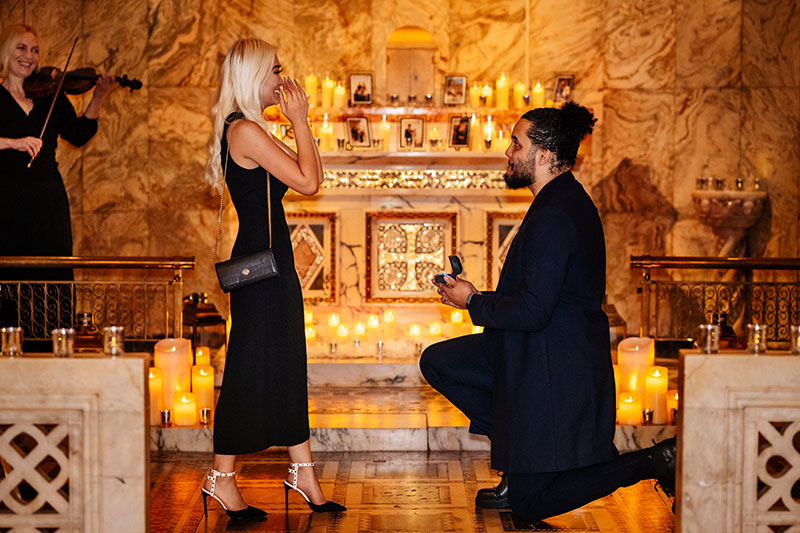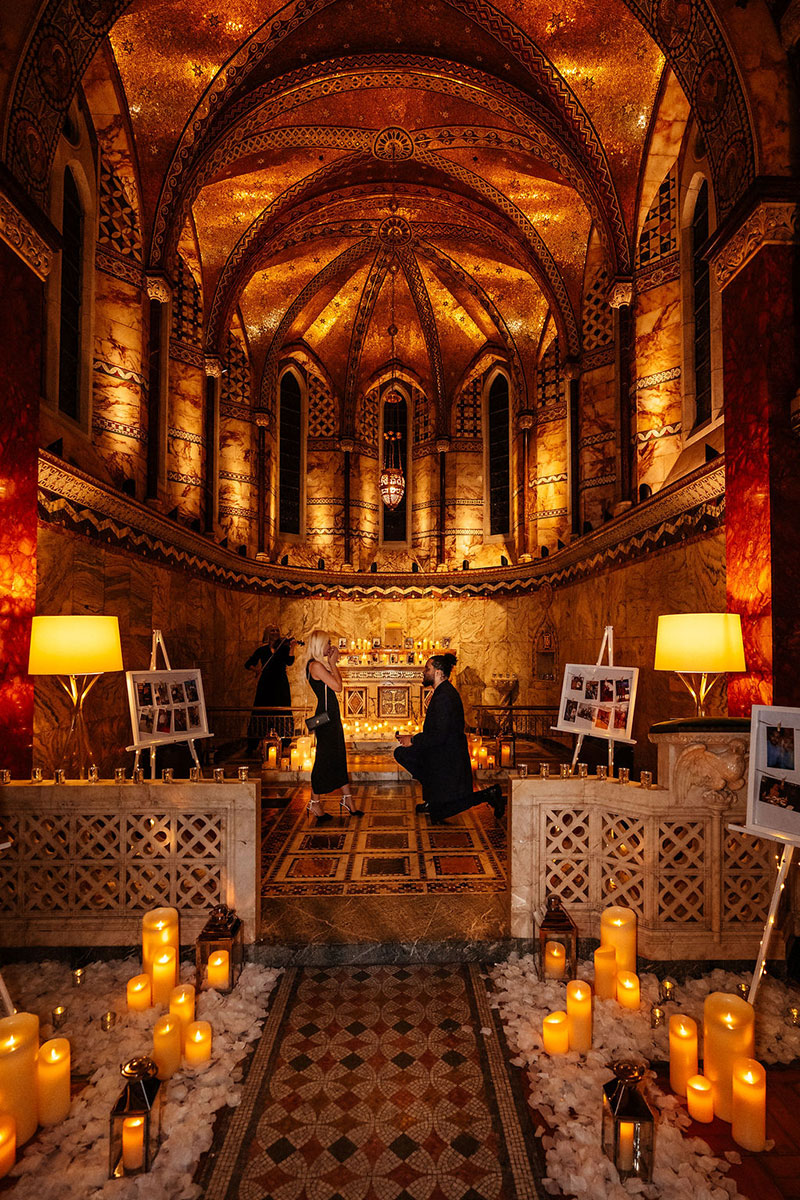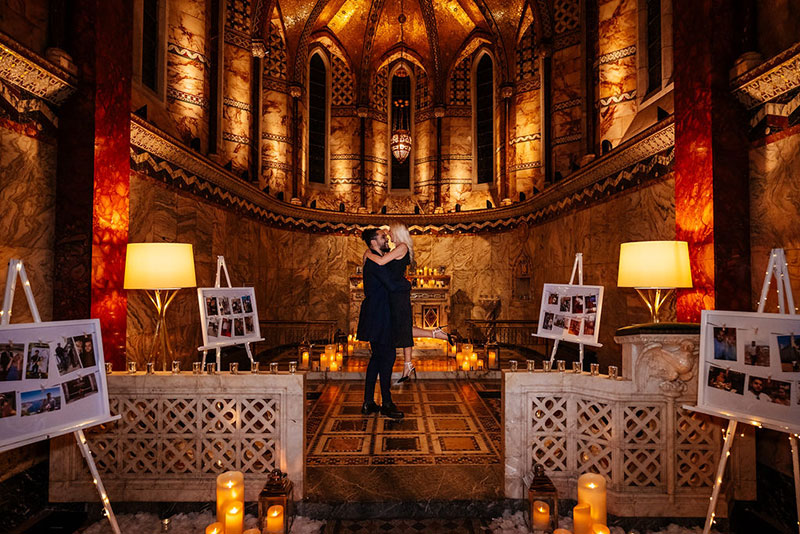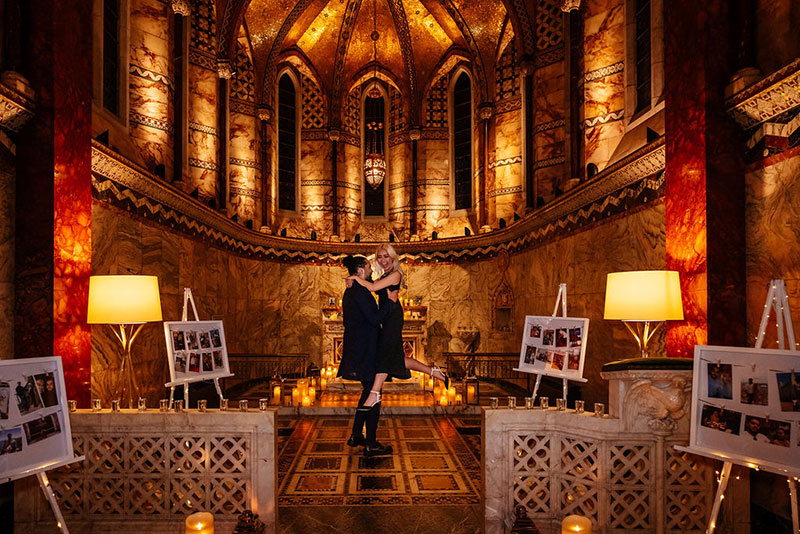 Adam poured his heart out as he got down on one knee to ask Julie to be his wife.  There wasn't a dry eye in the room, as Julie struggled to catch her breath amidst the tears of joy and the magic of the moment, before managing, "Yes!"
In Julie's own words, she was blown away by Adam's proposal, saying "the attention to detail and effort put in is unreal," beyond anything she could have dreamed of.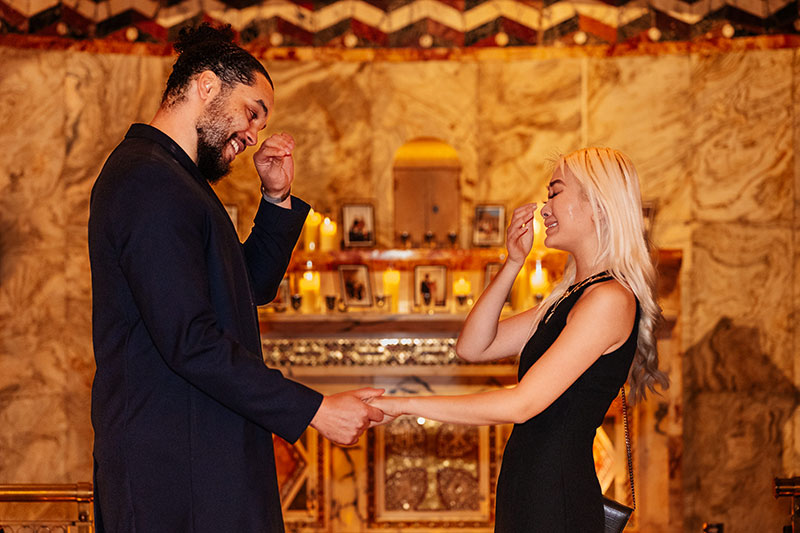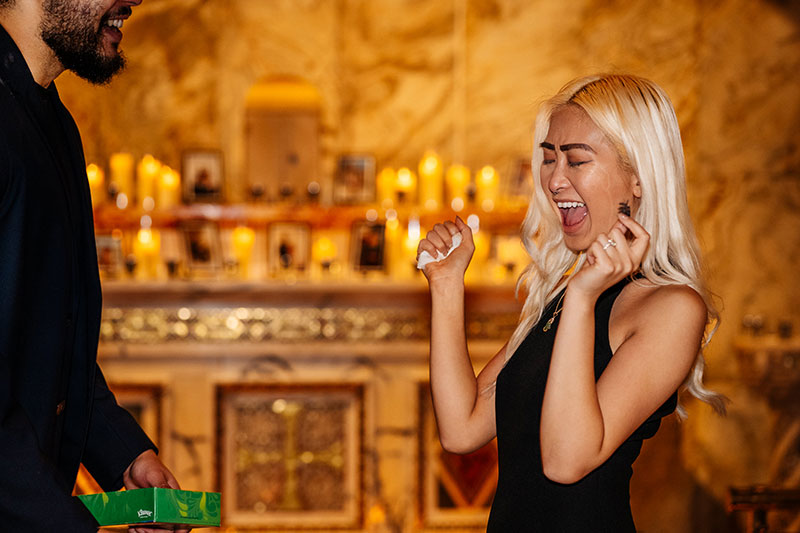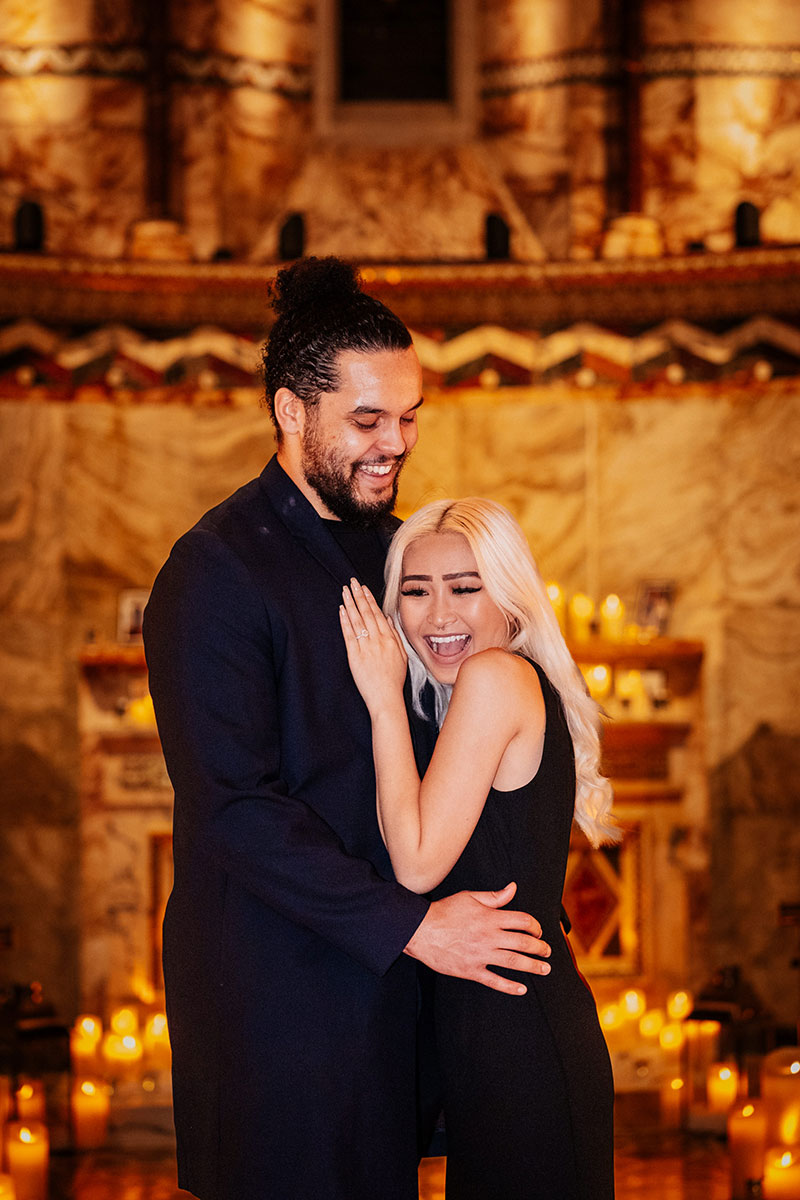 After some time alone to enjoy the moment and many happy tears later, the One Romance were on hand to offer their heartfelt congratulations, a champagne toast and a much-needed box of tissues.   With emotions still high, our professional photographer Gemma, who had been subtly capturing the proposal unfold, invited Adam and Julie for one last surprise, a romantic engagement shoot.  With the unparalleled beauty of the Fitzrovia Chapel as an exquisite backdrop, Gemma guided Adam and Julie through their portraits, capturing more beautiful memories that will be treasured for a lifetime.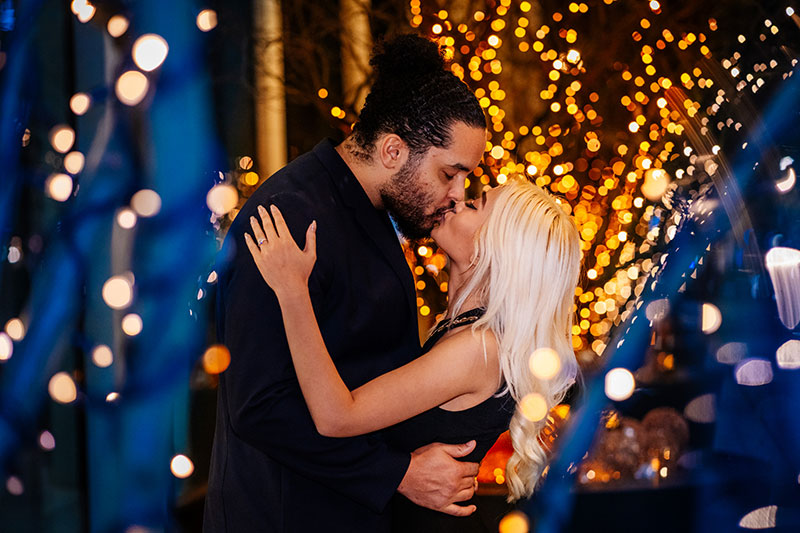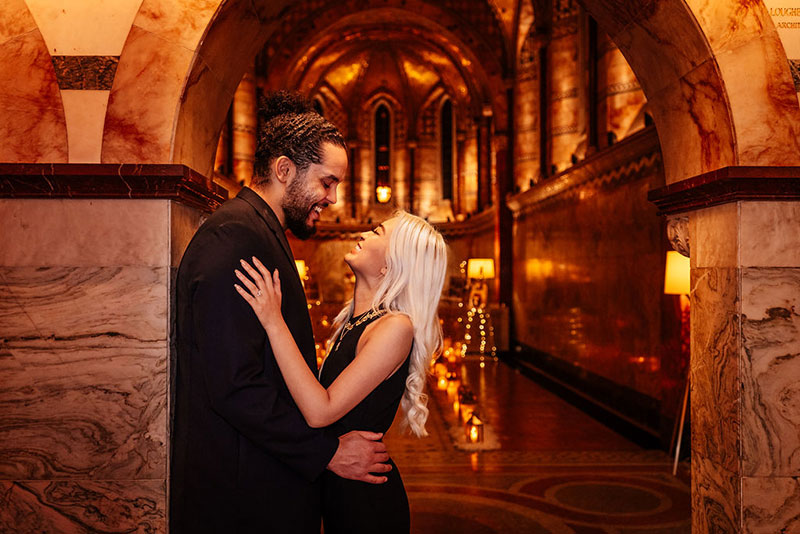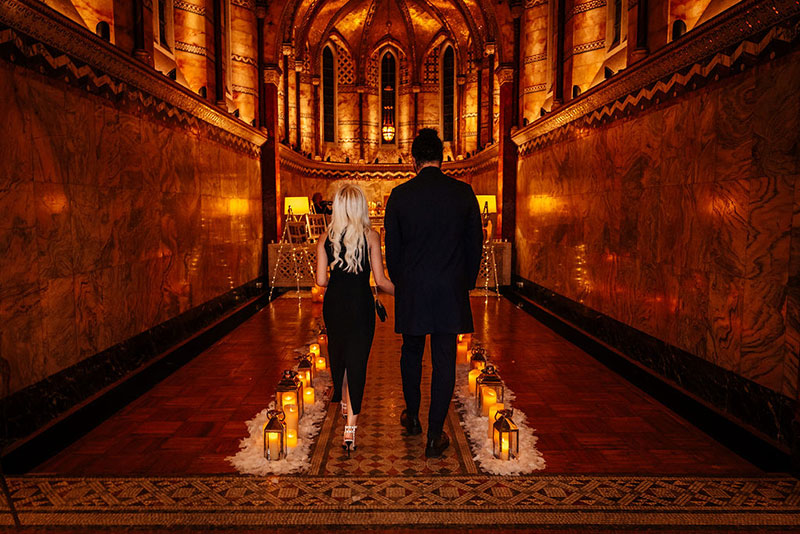 If you want the One Romance to create a bespoke proposal for you, then reach out to our team today.  We'd love to help.
Photo credits:
Gemma Chase
www.gemmachase.co.uk
@gemmachase