Find Your Happily Ever After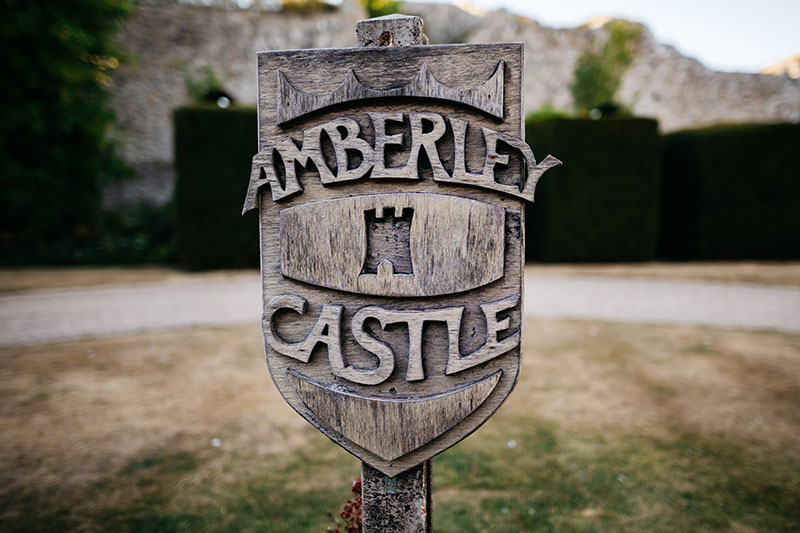 When our feelings for someone are strong enough to rock us into our very own fairy tale, sometimes choosing the perfect proposal to go along with your perfect prince or princess can be tricky. Luckily Brian knew exactly who to call to guide through the where, when, and the how of his special moment, so he can focus all his attention on the 'who' – his wonderful Ivy.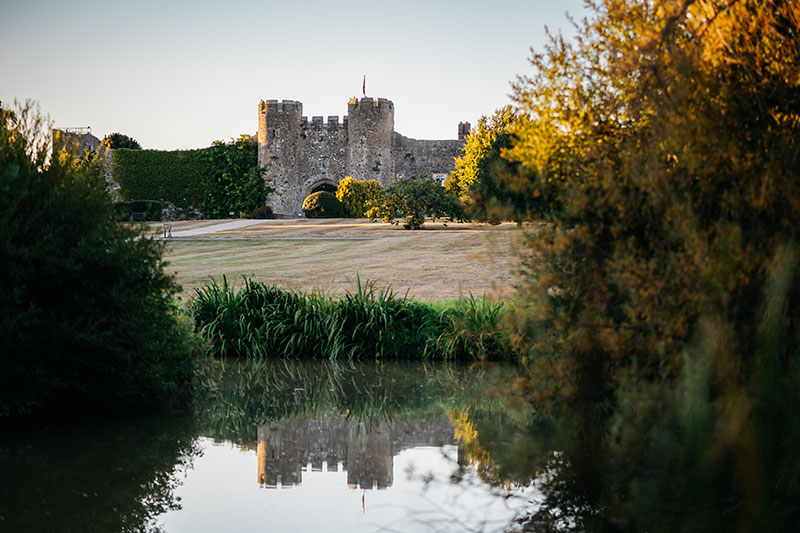 The One Romance team took up his call immediately and went out searching for the perfect castle to host his happily ever after. After much research and many site visits, we found the perfect place in the grounds of Amberley Castle. Nestled in the stunning West Sussex countryside, the historic castle offered everything Brian had wanted most. His own research had made it clear to him that water, lights, and a starry night were crucial, asBrian knew the glistening of stars reflecting on the water would mirror the sparkle he sees in Ivy's eyes. After months of detailed back and forth we narrowed down designs until every last detail was in place. We decided together on an outdoor, castle lakeside proposal of just the two of them, with a few extra personal touches to really seal the deal… Brian and our team had a stunning proposal gift of Ivy's favourite wine in a bespoke gift box to be on scene to enjoy, along with personalised poker chips with names and dates of their special day, and their very own microphone to sing karaoke into the night – their favourite shared pastime. There's nothing our team loves more than a detail-orientated groom-to-be!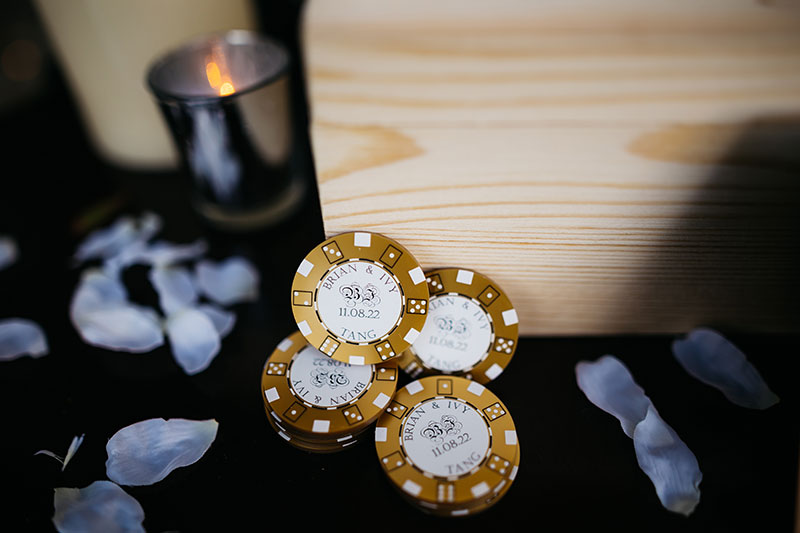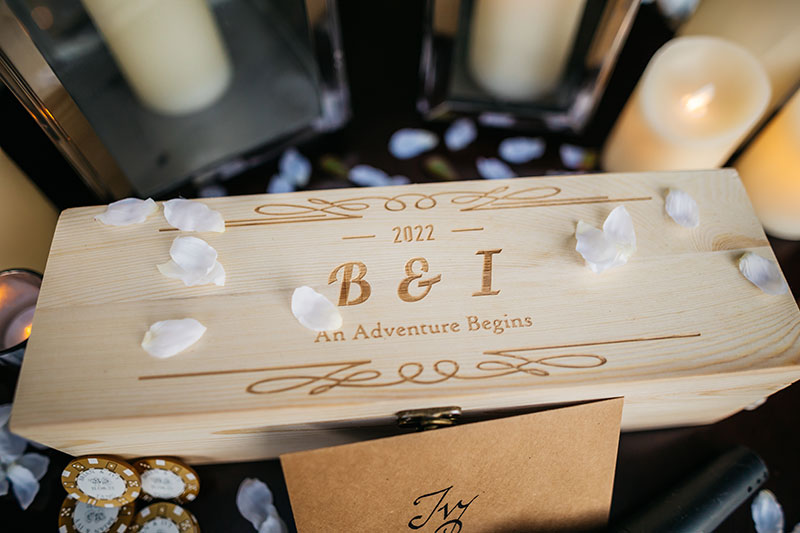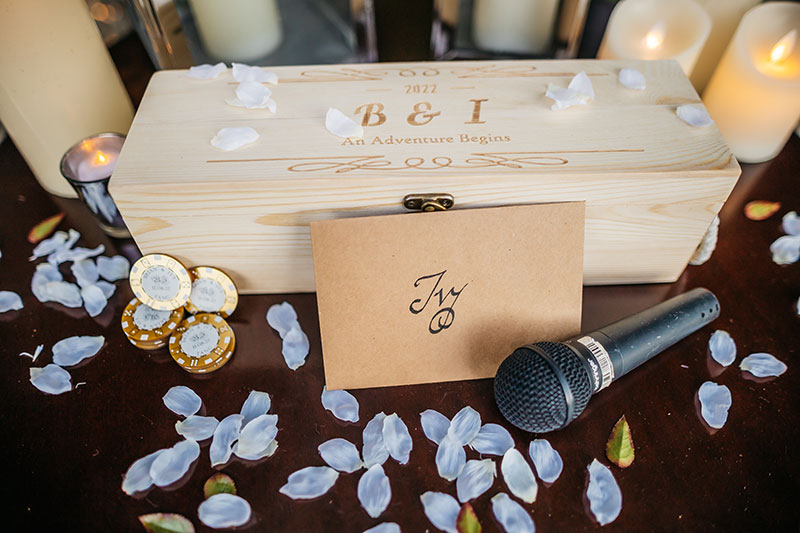 The lake just off the private golf course and acres of grounds offered its very own private boating hut. The One Romance team knew as soon as we saw it, exactly what to do to make Brian's dreams come true. Arriving early on site, our team began the set up, before letting Brian know that it was now his time… As they left the castle together after dinner and wondered into the private grounds, they noticed the trees glowing in the distance. Every tree on their walk had been adorned with flickering fairy lights and magical coloured lanterns. Vintage standing lanterns pathed the path leading to their secluded proposal spot by the water. Brian had chosen the perfect song that meant so much to them over the years to be playing from amongst the trees, and just like that, Ivy had wondered into a dream, a dream perfectly curated just for her. As the surprise gives way to adoration, Brian and Ivy asked and answered the most beautiful of all questions, and promised to be each other's forever.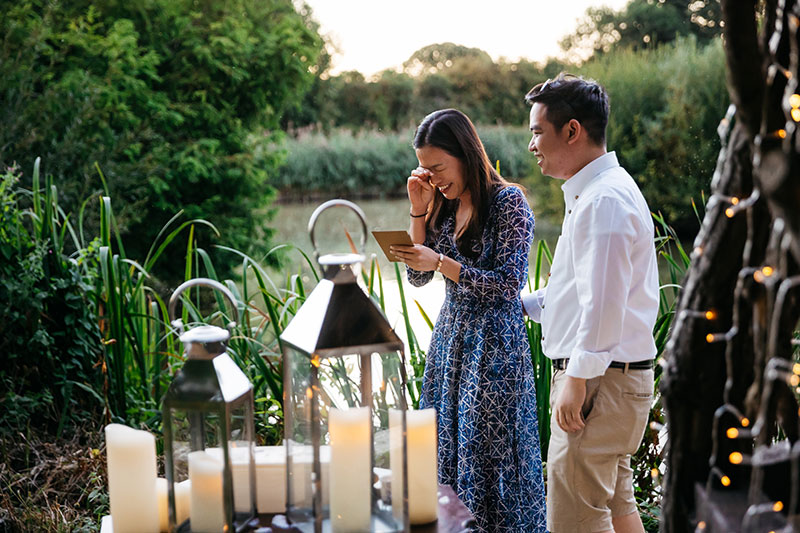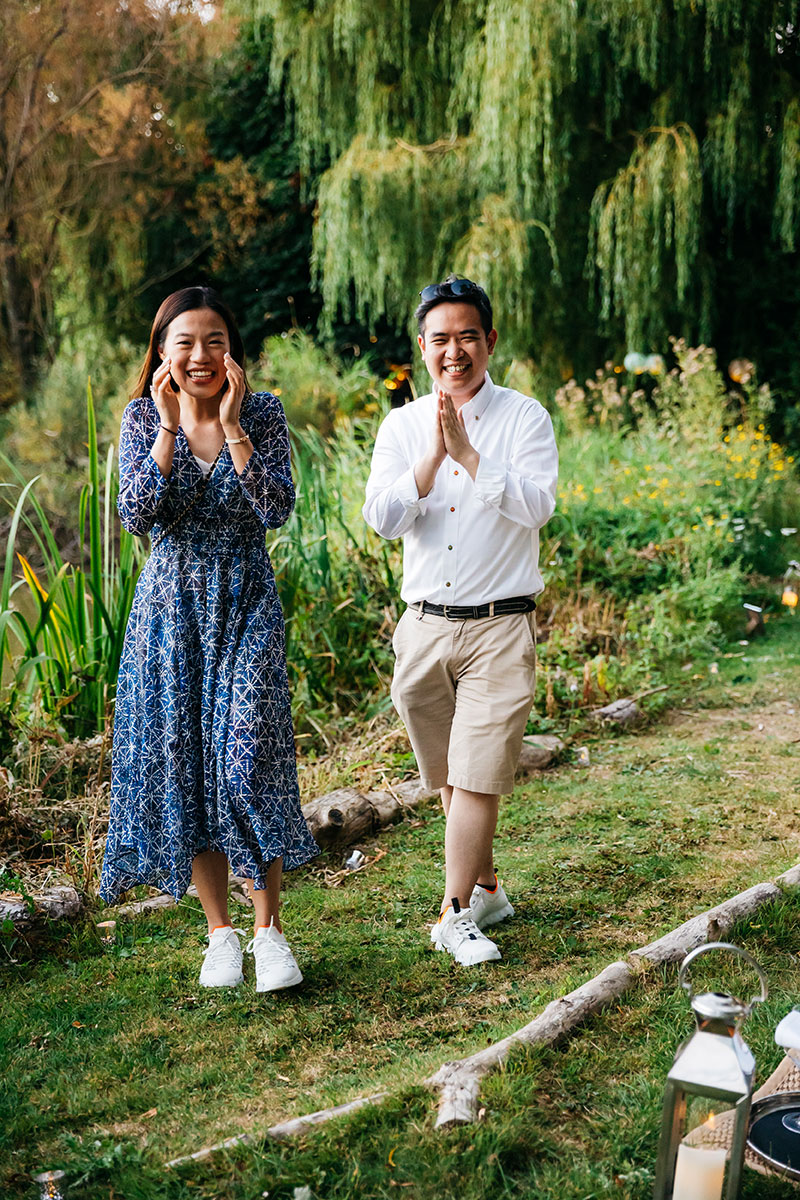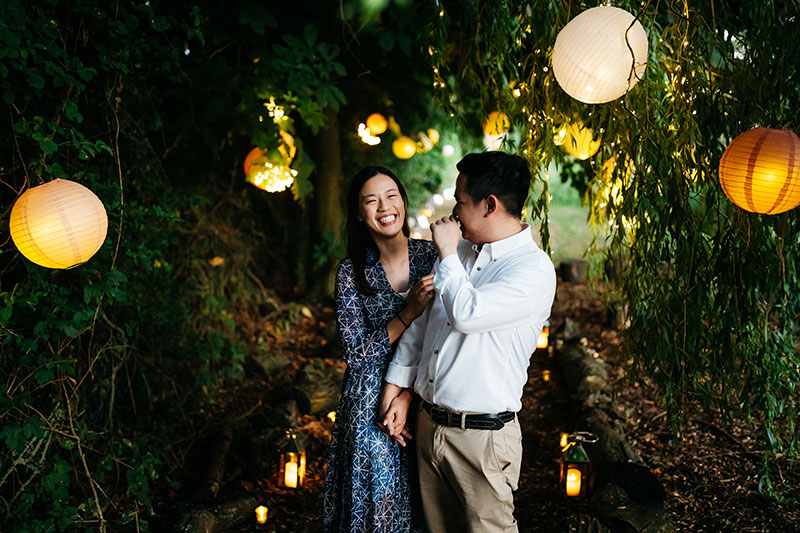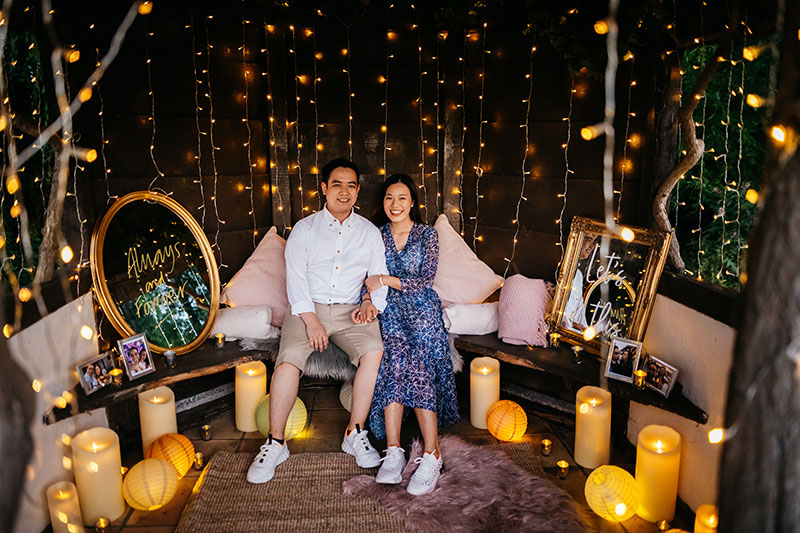 Nestling together on Amberley Castle's lakeside in their private proposal hut, they planned their futures together, and all they needed was a little help, and a whole lot of fairy-lights, from us here at the One Romance. We adored every second of Brian and Ivy's proposal, and could feel their love washing over every detail. If you ever need help deciding on how best to move forward with your own proposal, then think of Brian, and give us a call.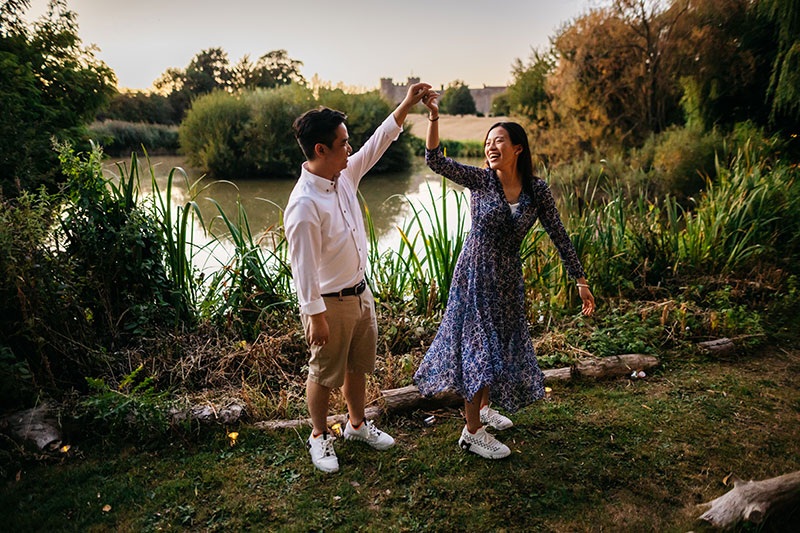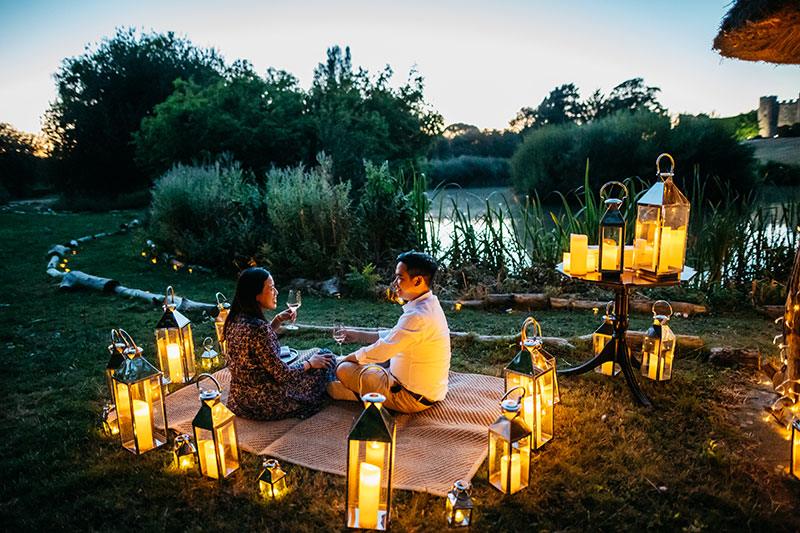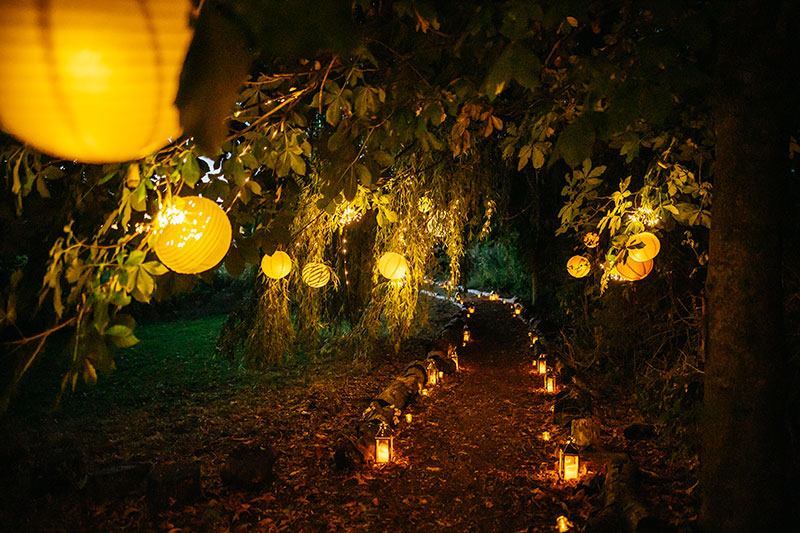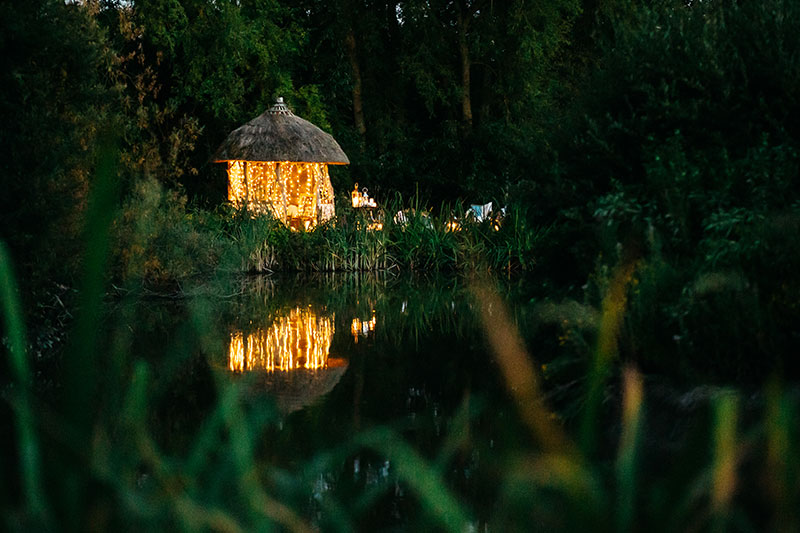 Photo credits to Paul Grace – https://pgrace.co.uk