Our tagline is 'Leave them speechless' and this proposal definitely did just that! In 3 years of running this proposal planner company, this was the first one that involved a puppy! To make it even more perfect, this proposal was on the most romantic day of the year!
When Ashkay got in touch with The One Romance, he knew that he wanted to propose on Valentine's Day as well as give his girlfriend, Zaneta, a puppy at the same time! This is where our Proposal Planners stepped in and were able to make his dreams become reality! We found the perfect location and came up with a plan that would involve the puppy.
Whilst proposals are an incredible occasion that should be cherished forever, they can also be unnecessarily stressful time as you try to make everything perfect! Ashkay had the right idea when he came to us as he could focus solely on perfecting his proposal speech and choosing the right ring whilst we dealt with the logistics!
Our Proposal Experts chose the prestigious hotel: Blake's, in Central London for the setting of this proposal and transformed it into a twinkling, private enclosure for the two of them! Zaneta walked up the red carpet lined with candles to the glasshouse where she found a huge box with a tag 'Free Puppy Inside'!
As she opened the box, the most adorable puppy was looking up at her with a collar around her neck asking Zaneta 'Will You Marry My Daddy?'. As the puppy looked on, Ashkay got down on one knee and proposed to Zaneta!
Of course she said yes and inside the hotel, their family and friends were waiting to celebrate with the newly-engaged couple!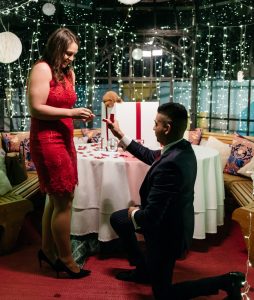 Congratulations to Ashkay & Zaneta on their engagement and thank you for choosing the marriage proposal planner: The One Romance, to be a part of it! This unique proposal was certainly one of a kind as all our proposals are and we can't wait to create something just as special for you! We're sure our Team will be more than happy to look after your puppies if you'd like them to be involved! Get in touch now and one of our marriage proposal planners will make sure that your proposal can be completely stress free and a moment you'll never forget!