Do you need help proposing and are looking for an idea that is completely personal and unique to the two of you? Our Proposal Planners have been working on some gorgeous new ideas for you that will work in a variety of locations, whether it's in London, Paris or Positano. All you need to do is get in touch for an initial consultation where our Team will take the time to find out all the details about the two of you. With a 100% success rate, you can be confident you're leaving this special occasion in the right hands!
Our latest client contacted us with us only a couple of days before he wanted to propose but with our experience and insider knowledge, we organised and pulled off a stunning proposal!
A trip to London for a birthday treat for Jordan, Jordan and Cissy travelled from Paris to explore London and all the city has to offer. With a following of almost 56,000 followers on Instagram between them, the couple took the opportunity to use London as an exciting backdrop for their posts. You can view thier Instagram accounts here Jordan – Cissy
Whilst they were out and about exploring London including Notting Hill, Tower Bridge and The London Eye, our Proposal Planners got to work!
The couple were staying in an elegant suite at The Colonnade Hotel in Little Venice.
The ceiling was covered with gold, red and silver balloons and large gold MARRY ME balloons filled the bay window. Not only did the colours match the room décor but also Cissy's beautiful red and gold dress!
Love notes and pictures of the couple were hanging from the balloons all around the room highlighting moments of their relationship so far and making the occasion even more personal.
Of course she said yes! Head over to our Instagram to see more photos of this proposal!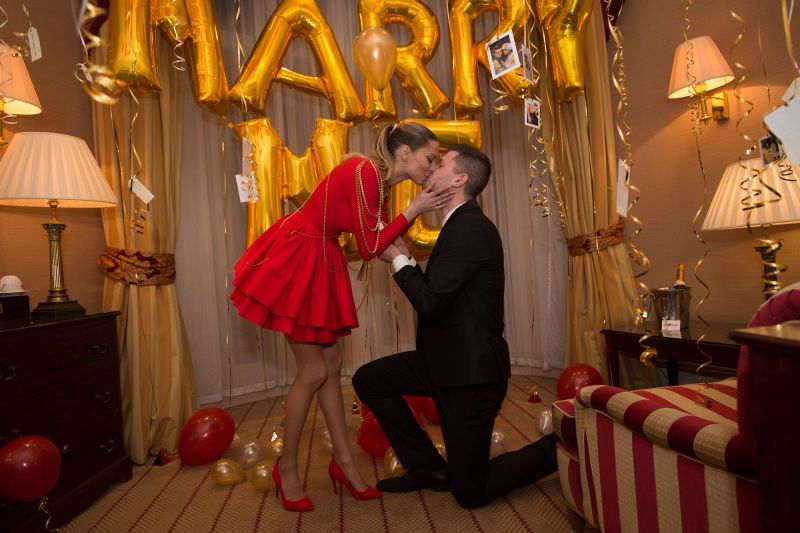 Do you want to pop the question to your other half but can't quite think of how to? Let our dedicated team help you propose! Get in touch now and we will be sure to make it a completely stress-free and memorable occasion!
This is what Jordan had to say after his proposal….
She said yes !!!!! Many thanks it's beautiful !!!!!
Thank you very much you were awesome !!
 Photography by Charlie Sawyer Photography