Room Decor Proposal Package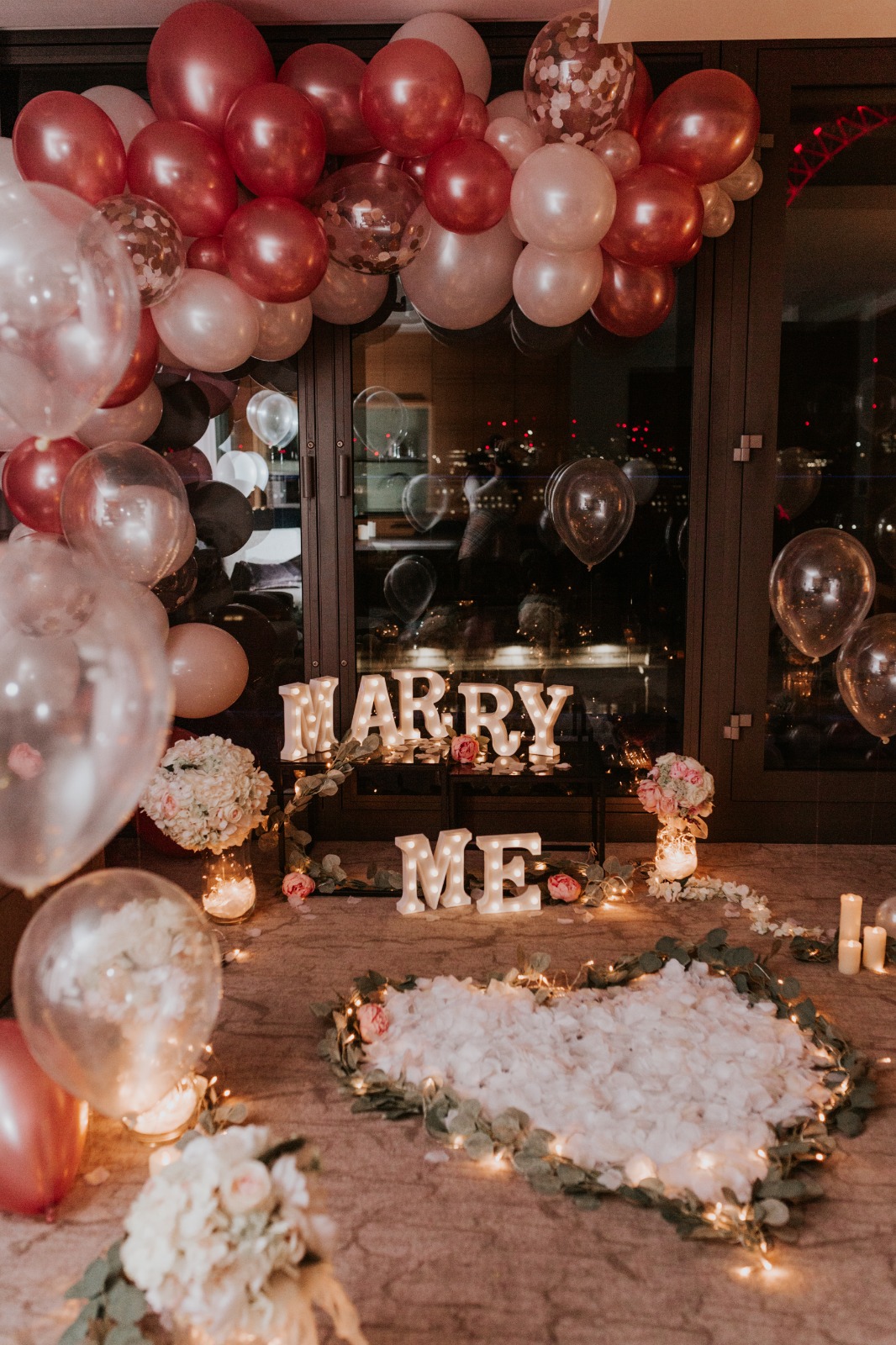 The One Romance Team understand that fireworks, flashmobs or magicians may not be everyone's idea of a perfect proposal. That's why we created a bespoke collection of unique yet more low-key proposal packages starting from £650. Each one is customisable and we can execute them for you in almost any location. Our romantic Room Decor Proposal Package is one of our most popular packages as there are so many options available!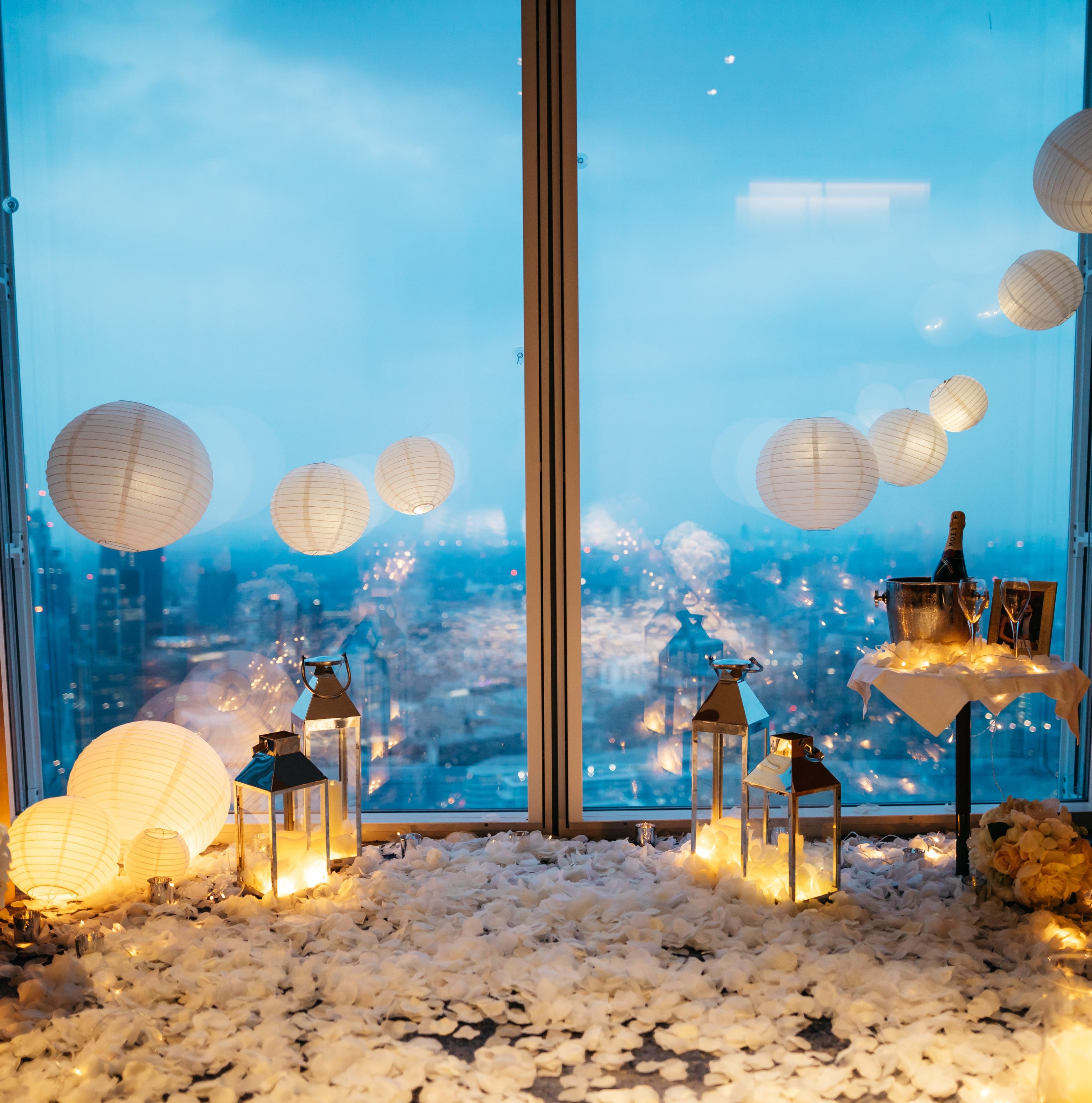 The £650 room decor proposal package includes:
thousands of rose petals (a multitude of colours to choose from but we recommend white, pink, red or a mixture!)
fairy light and candles to transform the location into the perfect fairytale twinkly setting
lanterns, glass vases and flower orbs
personalised love notes from you to your partner
one of our talented Proposal Planners to decorate your room on the day
a full plan and break down of how the day will run including exact timings, contact details and location information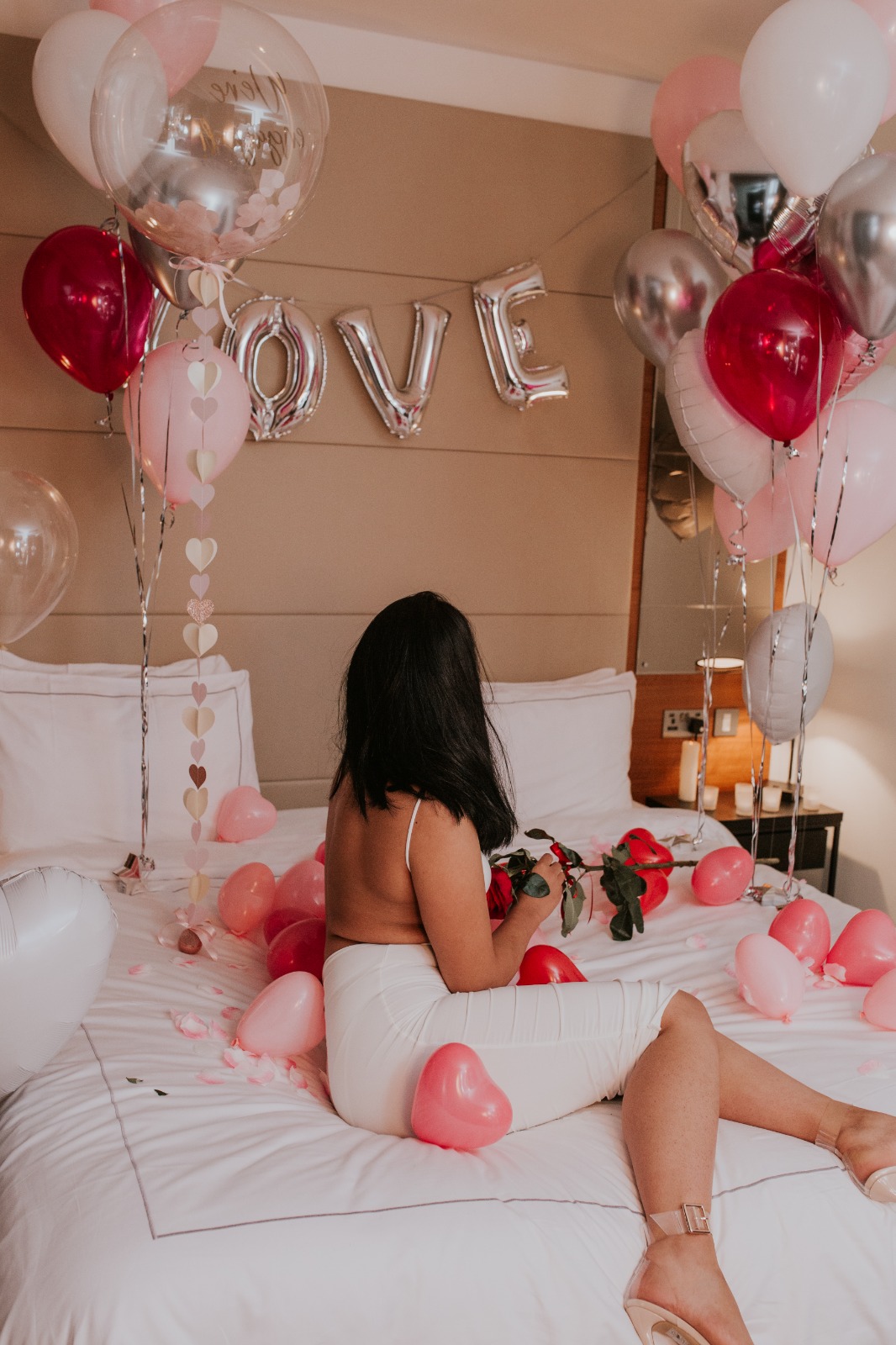 To create something even more unique and memorable, we offer a huge number of extra options including:
balloons (including a huge balloon with Marry Me? written on it and wrapped in a giant gift box!)
Marry Me lights (big or small)
fresh flowers
framed photographs of your favourite memories or made into bunting to hang around the room
and so many more!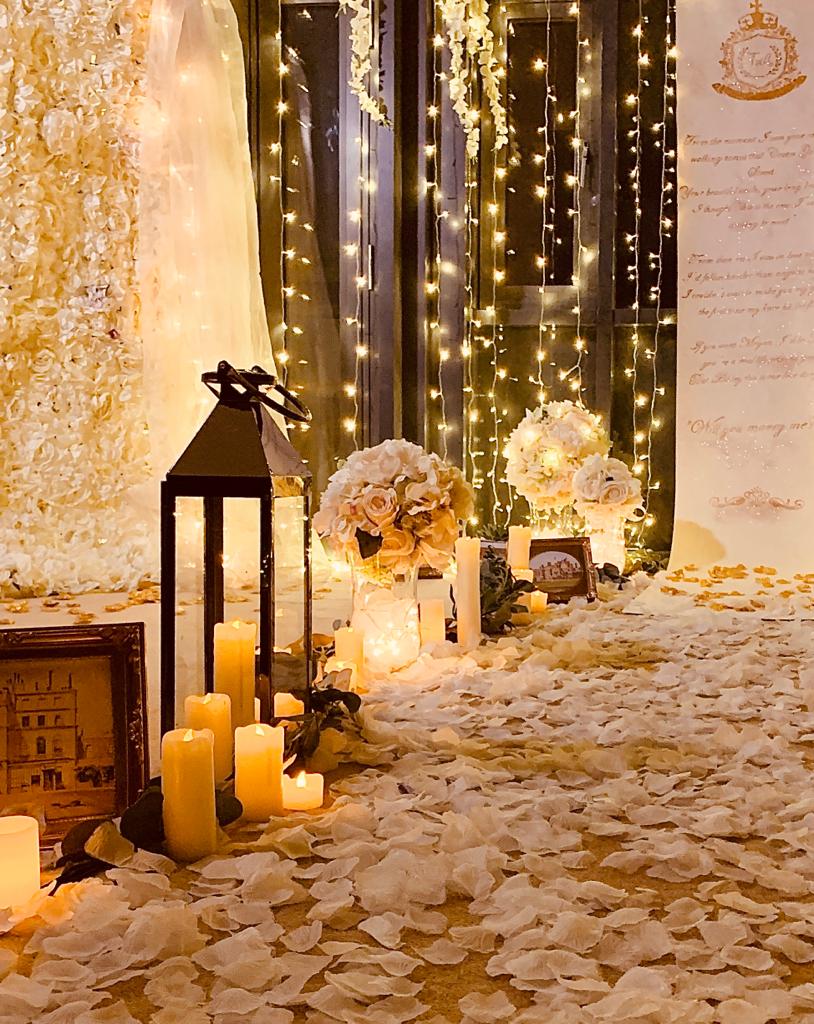 Of course, there is always the option of adding a photographer and/or videographer to capture the moment so that you have the memories forever. If you'd prefer to keep your proposal private, the photographer or videographer can join you for a photoshoot afterwards.
Music is also a key factor in creating the perfect set up! Maybe you'd like to create a playlist of all of your favourite songs that hold special memories for you and your partner. Alternatively, a live musician performing your song live is a gorgeous addition. We work with incredibly talented violinists, harpists, guitarists and singers (to name a few!).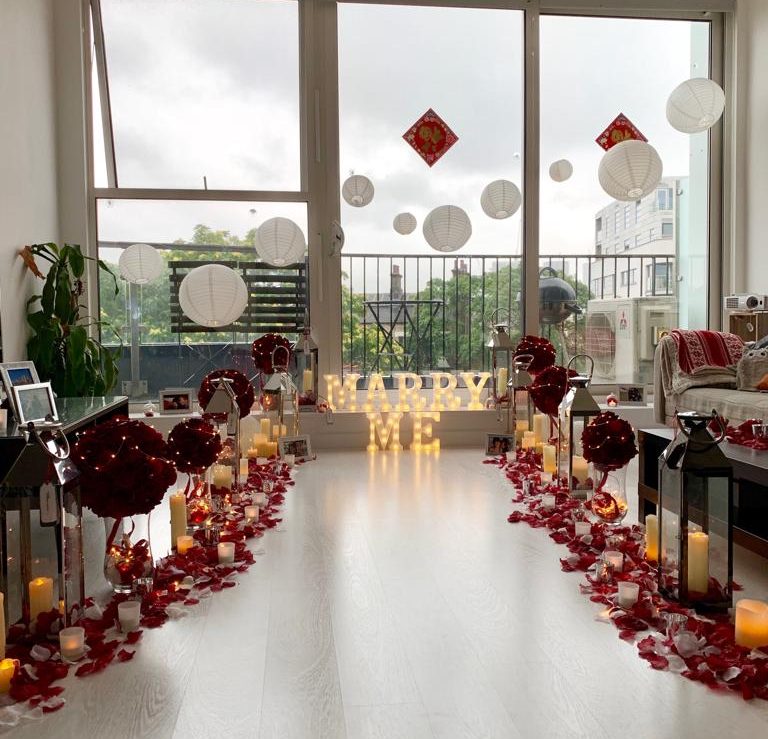 Are you thinking that maybe this is how you'd like to propose but don't have any clue on a location? Get in touch with our Team and we can recommend locations to suit every budget! From Airbnb's to the Shangri-La at The Shard, we'll find something that works for you. We also are more than happy to transform a room in your own home!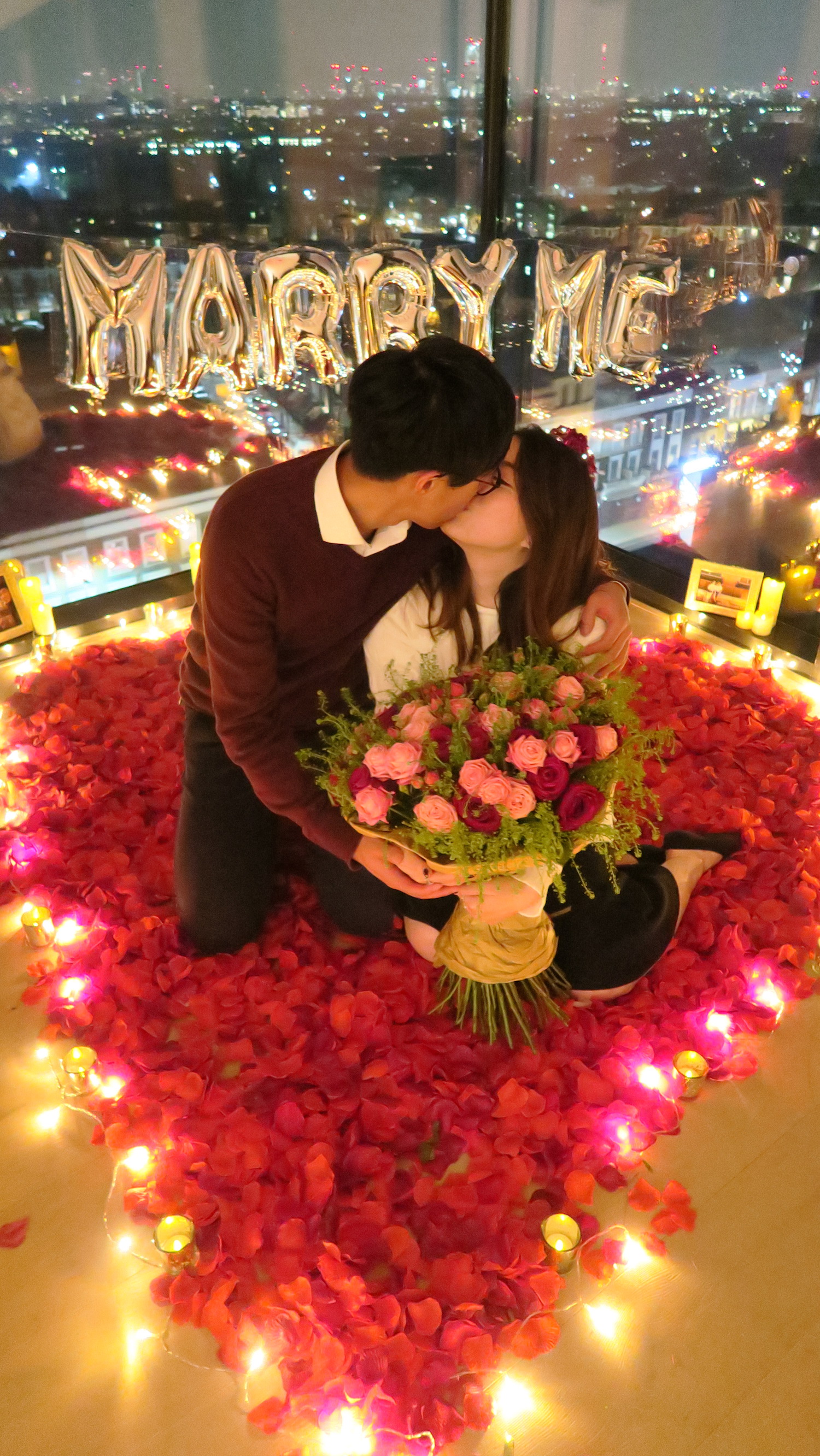 If you have any questions about this package or another one, simply send us an email or a message on WhatsApp and a member of our Team will respond as soon as possible!
We can't wait to hear from you and be a part of your once-in-a-lifetime moment that will change your lives forever!